The Scottish Printing Archival Trust (SPRAT) was formed in 1988 to con­serve 'know­ledge and examples of Scotland's print­ing her­it­age for the bene­fit of the public and print/media education'.
The Trust pro­motes interest in the his­tory of the Scottish print­ing industry, which is one of Scotland's oldest. It does not hold any archival col­lec­tions itself, but works with vari­ous insti­tu­tions to ensure that print­ing archives are not lost.
Current pro­ject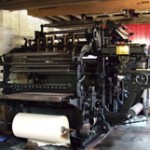 We are work­ing with the National Museum of Scotland to pre­serve the Cossar Press which prin­ted the Strathearn Herald in Crieff from its first install­a­tion in 1907 at David Philips Printers in Comrie Street, until 28 March 1991. A clip of its last run can be seen here. For more back­ground to the his­tory of this press see the pro­ject page.
The Trust is lead­ing the fun­drais­ing effort to sup­port the pre­ser­va­tion of this his­tor­ic­ally import­ant and unique item and is delighted to announce that the National Printing Heritage Trust has made a gen­er­ous grant towards the Cossar Press pro­ject. This grant, together with dona­tions from the Scottish Newspaper Society, Unite the Union and the Oxford Guild of Printers as well as indi­vidual donors, means that the appeal has now reached the mile­stone of £6,000 or 40% of the over­all figure needed for the pro­ject. There are more details about the pro­ject in the appeal leaf­let or you can con­tact the Honorary Secretary. Cheques should be made pay­able to 'Scottish Printing Archival Trust' and marked 'Cossar Press Project' on the back: you can also 'Gift Aid' your contribution.
Up-to-date news of this project »
Publications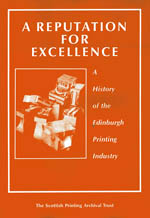 If you would like to know more about Scotland's place in print­ing his­tory, the Trust has pub­lished sev­eral books on the his­tory of Scotland's print­ing industry:
four books in the series, A Reputation for Excellence, cov­er­ing local his­tor­ies of printing;
a pamph­let, 500 years of print­ing, pub­lished to cel­eb­rate the 500th anniversary of Scotland's print­ing industry;
and, in asso­ci­ation with Graphic Enterprise Scotland, Mechanical to digital in Scotland by Professor John Gennard, chart­ing the 100 year his­tory of the Scottish print employ­ers' organisation.
You can down­load an pub­lic­a­tions order form for all Trust publications.