On 15 September 1507, James IV of Scotland granted Walter Chepman, an Edinburgh merchant, and his business partner Androw Myllar, a bookseller, the first royal licence for printing in Scotland. Although the licence was actually granted to enable the printing of the Aberdeen breviary, a book of Scottish church practices and the lives of local saints, complied by William Elphinstone, Bishop of Aberdeen, The Complaint of the Black Knight by John Lydgate, is the first known work from the press set up by Chepman and Myllar, printed on 4 April 1508 near what is now Edinburgh's Cowgate. Images of works printed by Chepman and Myllar prints held at the National Library of Scotland are available on the Scotland's first printed books website.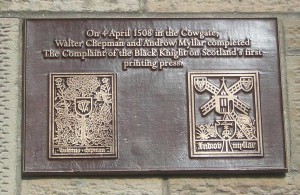 On 4 April 2008, as part of the celebration of 500 years of the printing industry in Scotland, a commemorative plaque was unveiled near the site of Chepman and Myllar's press, at the corner of Blackfriars Steet and the Cowgate, placed there by the City of Edinburgh Council.
Printing spread gradually through Scotland, with a press established in St Andrews in 1552, a short-lived one in Stirling in 1571 and in Aberdeen in 1622, with other major towns such as Glasgow following later in the seventeenth century: the spread of printing across Scotland is shown on the Spread of Scottish printing website.
SPRAT has produced a number of books on local printing industries in Scotland under the title A Reputation for Excellence. Text versions are downloadable as PDF files through the links below.
Edinburgh Glasgow Dundee and Perth